Additional Costumes and Musical Arrangements Headed to the Nintendo Switch  
Today, KOEI TECMO America announced the first details and preorder information for the Touken Ranbu Warriors Digital Deluxe Edition, scheduled to launch in North America for the Nintendo Switch™ system on May 24, 2022. Both the standard and Digital Deluxe editions of the highly-anticipated musou title are available for preorder on the Nintendo eShop starting today.
Special DLC packs featured in the Digital Deluxe Edition include the "Honmaru Backdrop", which enables gamers to change the season of the Honmaru; the "Additional Music" DLC, which includes five additional music pieces from Touken Ranbu -ONLINE- specially arranged for this title; and the "Uchiban Outfit" 16 piece set, which allows gamers to change the outfits of the Touken Danshi. All DLC will also be available separately for purchase on May 24.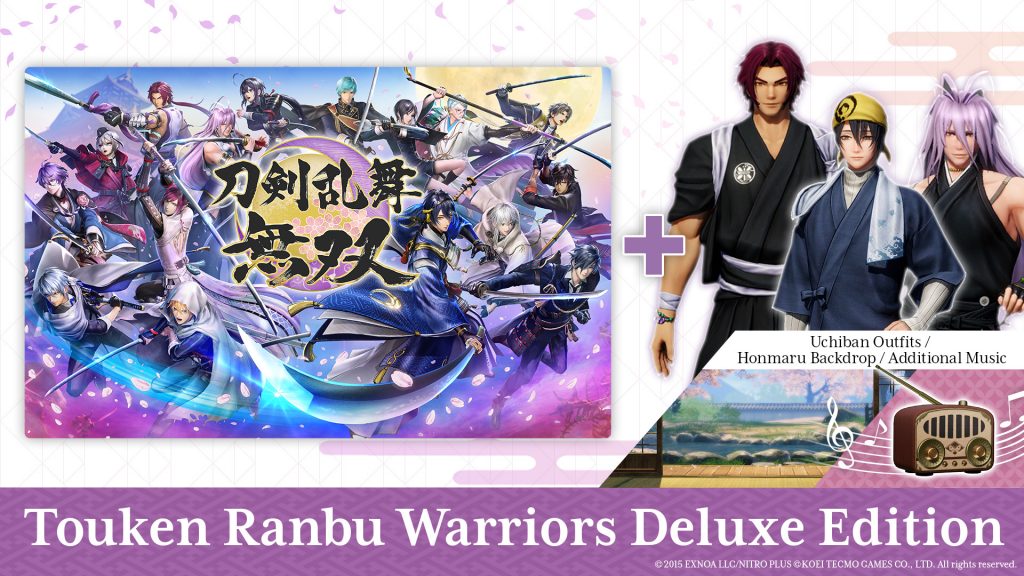 In Touken Ranbu Warriors, famous swords take the form of warriors named Touken Danshi (swordsmen), and these elite fighters are sworn to protect history from an onslaught of evildoers. This all-new experience promises to combine the Touken training of the Touken Ranbu -ONLINE- simulation game with the breathtaking musou action of KOEI TECMO's WARRIORS series, delivering must-play 1 vs. 1,000 combat.
For more information on Touken Ranbu Warriors, visit the official site, Like us on Facebook @koeitecmous and Follow us on Twitter @KoeiTecmoUS.